Sunshine Weekly Weeder Newsletter
24 January 2018
www.sunshinecommunitygardens.org
---
If you are signed up to receive the Weekly Weeder and have not been receiving it, here is a troubleshooting page to help. If this doesn't help, please let Sharon at scgardenweb@gmail.com know. Thanks.
---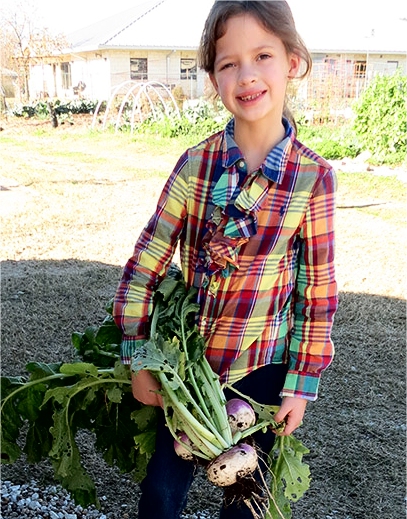 Gardening with Grandchildren
James Williams sent this to the Weeder:
"My 7 year old grand daughter loves to come to the garden when she is in town. Here she is with her harvest when she was here at Christmas. We are building some good memories and a love for gardening!"
Share you memories, ideas and food thoughts with your community members in the Weeder.
---
Upcoming Events
Starting Wednesday, January 24: Compost is available for gardeners! 18 yards of turkey compost will be delivered to Sunshine for the members to use on the honor system. The price is $1 per 5 gallon bucket with a limit of 20 buckets. Please keep in mind that the compost we will be ordering for the plant sale as part of our fundraising will be priced accordingly.
Saturday, January 27, 10:00 to 11:00 am: Seed Swap Sustainable Food Center is hosting this event at the Downtown Market (400 W 3rd St.) A brief seed saving class followed by a swap, so remember to bring some of your favorite seeds!
---
Help Wanted: Transplanting Herbs
Help wanted, and between 15 and 20 volunteers are needed to help transplant herb seedlings into their 4" pots. If you are interested, please contact Jen Woertz to schedule a time.
---
Sign Up to Load Compost for Plant Sale
We're looking for volunteers for the plant sale to help load up wheel barrows with bags of compost and load into customers cars. Volunteers should be able to lift heavy bags (40-50 lbs. depending on how dry it is) and move multiple bags in a wheel barrow. We'll need 5-8 people for each shift, and shifts will be 2 hours long. If you are interested contact Polly Porter.
---
Are You the Last Person Gardening?
We need your help! If you are the last person at the garden, please make certain that the took shed, trailer and main gate are locked. For those passing by in the evening or after dark, please swing by to check if the Garden has been properly locked up. Thank you.
---
Spread the News
The news of the plant sale needs to be spread! Please mention it on Facebook...Twitter...Instagram...all your social media. And pick up some posters and postcards to take to your favorite restaurants/coffee shops and nurseries for them to post. Those are available in the trailer on the tables at Sunshine. And if you are willing to commit to a role in the publicity for the plant sale, please email Janet Adams.
---
Weeder Content
Should you have any content to add to the Weeder, email your article or suggestion to Kristin Phillips. On normal weeks content should be received by end of day Wednesday.
---
Officer and Zone Coordinator Contacts - Sunshine Gardens
Officers
Email the board.
Zone Coordinators
Other Personnel