Sunshine Weekly Weeder Newsletter
2 March 2017
www.sunshinecommunitygardens.org
---
If you are signed up to receive the Weekly Weeder and have not been receiving it, here is a troubleshooting page to help. If this doesn't help, please let Sharon at scgardenweb@gmail.com know. Thanks.
---
All Gardeners Meeting
There will be a brief all gardeners meeting Friday (3/3) at 4:30 pm. After this meeting plants may be purchased by plant sale volunteers.
Sunshine t-shirts will be available for sale after the meeting. Large size only for $10.00.
---
Plant Sale - Saturday March 4th Rain or Shine!
Wear your Sunshine t-shirt to the sale. There will also be ties available to identify you as a volunteer.
Save on paper by reading the plant lists on the web site before you come to the sale or using your phone to view the plant information.
The garden will be closed to vehicles starting noon on Friday for safe setup.
---
Details for a Mantis Tiller to be raffled off.
Mantis 25cc, 4-cycle Plus, Gas, Tiller, Model 7940
Value: $475
Donated by Kathleen Cobb
Tickets are $5.00 each or 5 tickets for $20.00
Dream Gardens Start with Greenhouse-Quality Soil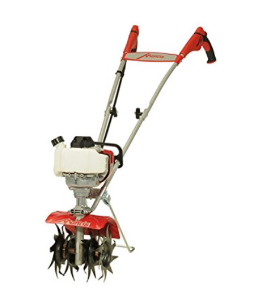 The Mantis Tiller/Cultivator is a lightweight and powerful tool that can turn hard, packed dirt into beautiful and bountiful gardens. It's the missing link between the spaces in your yard and the garden of your dreams. Mantis Tillers can be used throughout the gardening season for weeding and tilling. Flowers and plants need good soil to thrive and good soil starts with a Mantis Tiller. Dream no more - a successful garden awaits!
Winter is the perfect time to plan the vegetable garden and flower beds. The Mantis blog has lots of ideas for starting a garden and for trying something new in 2017.
It's also time to think composting. Send less waste to the landfill! Make 'brown gold' for the garden and patio containers. Mantis has what you need to turn barren spaces into beautiful places.
Owning a Mantis is the only thing standing between you and the garden you've always wanted.
Dig. Till. Power-Weed. Cultivate
Ultra-lightweight and easy to use
Powerful commercial engine
Durable and built to last
5-Year Consumer Warranty
Lifetime Tine Guarantee
Features: Compact Design, Lightweight 24-lbs., Till up to 10" deep, Reliable easy-starting and powerful Honda® four-cycle engine. Requires no mixing of oil and gas and runs quieter.
---
Silent Auction
Bid on "works of art" and other new & antique items.
---
Plant Sale Volunteers still needed
Thank you to those who have already given much time toward a successful plant sale.

to contribute to the success of the plant sale. See below for open volunteer positions.
Silent Auction Volunteers needed
We need volunteers to man the silent auction table.
Kitchen Help
Help is needed in the kitchen about 11:00.
Compost Bagging Help needed
Your can place buckets or tie strings - jobs that don't require strength. Only about 1/2 or less of the compost is packaged. Goal i s to have all compost packaged before plant sale.
Hauler Volunteers needed
More Hauler volunteers are needed. For this job you help customers carry compost and plants to their vehicles. Strength is needed.
---
What to do in your garden in March
Sow Seeds
Vegetables: Beans, Beets.
Late March: Black-eyed Peas, Chard, Corn, Cucumber, Malabar Spinach, Mustard, Pumpkin, New Zealand Spinach, Summer Squash.
Herbs: Chives, Epazote, Milk Thistle. late march: Basil.
Annuals: Castor Bean, Cleome, Cypress Vine, Gomphrena, Gourds, Marigold, Moonflower, Morning Glory, Nicotiana, Sunflowers.
Plant
Vegetables: Chard, Corn, Cucumber, Eggplant, Malabar Spinach, Mustard, Peppers, Pumpkin, New Zealand Spinach, Summer Squash, Tomatillos (you need at least two!), Tomatoes.
Herbs: Artemesia, Basil, Bergamot, Catmint, Catnip, Chives, Comfrey, Scented Geraniums, Echinacea, Feverfew, Lavender, Lemongrass, Mint, Oregano, Rosemary, Sage, Santolina, Savory, Sorrel, Thyme.
Annuals: Cleome, Cockscomb, Coleus, Cosmos, Gomphrena, Gourds, Lion's Tail, Marigold, Nicotiana, Pentas, Torenia, Zinnias.
Bulbs: Caladium, Cannas, Daylilies, and Giant Elephant Ears.
Perennials: Blackfoot Daisy, Cigar Plant, Damianita, Esperanza, Firebush, Plumbago, Spiderwort.
Feed and Cultivate
Till in winter cover crops. Allow two weeks for the cover crop to decompose in the soil before planting in that area.
Spray your plants with seaweed for increased heat tolerance, winter hardiness, and pest and disease resistance. Seaweed contains naturally-occurring plant hormones, micronutrients and trace minerals that are vital to plant health, and when it's used as a soil drench, s eaweed is a great natural root stimulator and anti-stressor for plants. All plants love seaweed!
---
Weeder Content
Should you have any content to add to the Weeder email your articles or suggestions to pporter_scg@austin.rr.com.
---
Officer and Zone Coordinator Contacts - Sunshine Gardens
Officers
Email the board.
Zone Coordinators
Other Personnel