Sunshine Weekly Weeder Newsletter
7 August 2014
www.sunshinecommunitygardens.org
Plot Rental Fees/Service Hours Due
Have you paid your plot renewal or your bill for unworked service hours?
If you haven't paid your bill for unworked service hours or renewal on your plot for the next 6 months, please do so immediately. It was due July 31. If you are giving up your plot , please let Kay know at scg.plots@gmail.com.
---
Rabbits
Several rabbits have been spotted around the gardens. Rabbits reproduce very rapidly, like... well rabbits, and can quickly overrun the garden eating a lot of vegetables. A female can reproduce up to five or six times a year and produce up to 7 babies at a time. That's a lot of rabbits. There's no such thing as a safe sustainable number of rabbits. If you see any, or see any damage done by them contact Stuart Nichols at elmer@math.austin.tx.us.
---
Micah 6 Summer Potluck
24 August, Sunshine Garden Trailer from 4-6 pm.
All Sunshine Gardeners are invited!
We ask that you bring a dish to share-be it salad, appetizer, entree or dessert, Drinks will be provided.
Let"s share our success together-the Micah team has grown and delivered a ton of food (2,000 lbs.) so far this year!!
Please let us know if you will attend -
RSVP to Susan Hoberman susie124@sbcglobal.net
---
Tomato Tasting Results 2014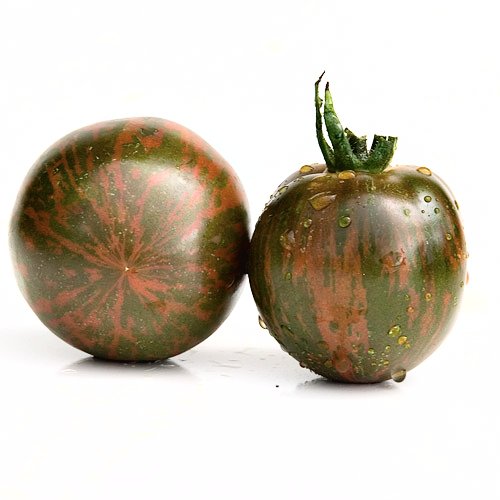 At long last, the results from the Tomato Tasting are in (the earlier report was from a previous year). This year, we had 49 varieties to sample. The five top-ranked tomatoes for taste were Black and Brown Boar (above), Sun Gold, Lemon Boy, Cherokee Purple, and Black Cherry. The five lowest-ranked tomatoes for taste were BHN-602, Homestead 24F, Large Barred Boar, Dark Galaxy, and Lemon Cherry. Texture and looks were also judged although fewer people made comments on those features than for taste. In any category, scores with more people judging them are more reliable than those with just a few. Also, the results depend on the samples submitted. If the tomatoes weren"t totally ripe or overripe, their scores may not be consistent with their peak flavor. Paste type varieties always score lower for taste and often texture than those typically eaten fresh.
We also had a very informative potato show-and-tell by Gail Reese.
The total set of results will be posted on our website. Thanks for participating in this year"s tomato tasting and we hope to see you (and your tomatoes) next year.
---
Olive "Peace" Tree
Exchange Students from Iraq Visit Sunshine again in 2014
On July 24, at 3 pm, former SCG President Cedar Stevens welcomed a group of about 25 Iraqi students and their advisors to Sunshine. The group's mission was to revisit the olive tree that was planted near the SCG Trailer by a similar group of student in 2008 as a symbol of the hope for peace in Iraq. The group, all in their late teens, were from all regions of Iraq. They were on a three city US tour (New York, Austin, D.C.) and were hosted in Austin by the UT International Office. Cedar did a walk-through of the gardens and spoke about our community's history. She also spoke about the original tree planting which she had presided over as president 6 years prior. Afterwards, students were given the opportunity to join with each other to water the tree as a gesture of peace. It was evident that tensions within the group, some personal and some connecting back to the current renewed conflicts in Iraq, were playing out even on their trip. The students were invited to chose someone that they were in conflict with to water the tree in pairs.
---
There will be no Weekly Weeder next week. The Weeder will return on the 20th of August.
---
Events of Interest to Gardeners
Austin Organic Gardeners meeting
11 August, Zilker Botanical Garden Center, 6:30 pm
Doors open at 6:30 for visiting and getting your gardening questions answered by our answer desk (look for the sign and the guys in big hats at the back of the room). Announcements and club business starts at 7 followed by our program at 7:30
Glenn and Paula Foore from Springdale Farm will discuss their fall activities including, resources they use for planning and sourcing, tricks to keep the birds and pests away, and how to get carrots to win over weeds
Insect Visitors in Your Garden
16th August 16 10:00 am
Zilker Gardens Admission: $2.00. Address: 2220 Barton Springs Rd.
Update your understanding of good bugs and bad, with Master Gardeners Pat Mokry and Sheryl Williams. Pat, an entomology specialist, will describe the common insect visitors to your garden, and help you determine if and how you should treat for them. Following identification of beneficial insects, Sheryl will then share a fascinating project she has constructed to attract insects into her garden for observation, pollination and just plain fun. Don"t miss these two lively, informative ladies! This seminar is free; Zilker park entrance fee is $2 per adult, $1 per child or senior.
Low-Water Veg Gardening
23rd August 9:00 am, Natural Gardener, free.
Tim Miller, a former SCG gardener turned farmer, will be the featured speaker at a FREE class on . Many gardeners make an exception to water conservation when it comes to their vegetable garden. After all, we"re growing food here! In 25 years of being a certified organic farmer, Tim Miller of Millberg Farm has never pumped any water from the aquifer for his growing needs. He is uniquely qualified to teach us how to grow luscious veggies, while making the most of the water we have. Learn how to use trench composting, furrows and dikes, mulching, cover cropping, and even weeds to conserve our most precious resource - water.
Note: you also receive a coupon, good for 20% off one item for attending a Natural Gardener class.
---
Rebates for Compost, Mulch and Aerating:
Great news! The City of Austin is offering rebates for things we should all be doing in our yards - mulching plants & trees, and aerating & topdressing our lawns. If you do all three things (according to their rules, of course) you can get as much as $180 back! Buy what you need, and be sure to keep your receipts. For rules and more details, visit the City of Austin's website.
---
Links
A site with a multitude of links of interest to gardeners in Central Texas: http://gardeninglaunchpad.com/Aus.html
---
Vegetables to plant in August
Early to Mid month: Chinese Long Beans, Corn, Eggplant, Peppers, Southern Pea, Tomatoes, Winter Squash.
All month: Cucumber, Summer Squash.
---
Officer and Zone Coordinator Contacts - Sunshine Garden
Officers
Zone Coordinators
Other Coordinators