Sunshine Weekly Weeder Newsletter
20 August 2014
www.sunshinecommunitygardens.org
All Gardeners' Meeting
Saturday 23rd August. 10:00 am in the trailer.
---
Work Day
Saturday 23rd August at 8:00 am
Start working on your hours now. The workday will be led by Katy Davis and Chris Schroder. For further information email katydavis@austin.rr.com, or christopher.s.schroder@gmail.com.
Decomposed granite for school garden, Micah 6 walkway, & raised beds area. To be be delivered on Friday, Aug 22 between 8:30 and 10:30 am.
---
Reminder
Do not take objects from other gardens. Recently someone who moved to a new plot had the bottom of her olla taken. Just because a gardener has left doesn't mean someone else hasn't moved in.
---
Gardening is a physical activity to enjoy for a lifetime!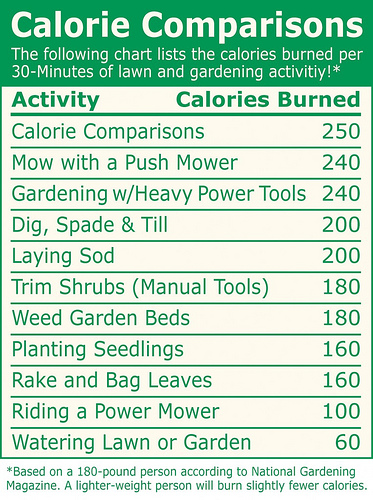 Who needs a gym? Lawn and garden care offers countless benefits to the largest generation in U.S. history. In addition to beautiful landscapes and fresh foods, Gardening decreases blood pressure, reduces stress, improves confidence, helps focus, and strengthens the body. In addition to gardening's physical benefits, proponents point to the psychological boost conferred by accomplishing a task and literally taking time to smell the roses.
Gardening is Exercise!
Some noteworthy facts include:
Yard work is one of only two activities with a significant impact on maintaining healthy bone mass and preventing osteoporosis in older women.
Gardening provides an adequate and challenging workout, but is not as stressful on the body as other exercise options, like jogging or aerobics.
Gardening could well be viewed as cross-training for fitness enthusiasts and as exercise for one and all.
Lawn and garden care facilitates weight loss! See chart.
---
Red Wasp High Season
Contributed by Cedar Stevens
I was a bit late taking out my tired old tomato plants this year, and found anther reason to avoid delaying this garden chore - Red Wasps! This is their high season, and also high season for other wasps, like our gentle Mud Daubers and the relatively peaceful "Yellow Jacket" paper wasps. While the Yellow Jackets build their nests high up, on overhanging eaves, Red Wasps build lower, right at gardener level, so this makes for more chances of conflict. While removing my tomatoes, I disturbed a nest in a soda can I use to top rebar stakes, and Queen Red flew right at me and chased me all over Sunshine! She would not allow me to return to my garden and pick up my tools and the tomatoes I had cut down were left in the path.
I am usually very tolerant of our insect allies, but this is where I draw the line! I retreated home to whip up a spray bottle of:
Organic Wasp Killer
1/4 Dish Soap
3/4 Everclear or other 180 proof grain alcohol. (I will leave a bottle in the shed)
If you are defending yourself against a single wasp, set the sprayer at about 33 degree mist. You will almost certainly have to wait til the wasp flies at you. Hold your ground and spray! The wasp will fall to the ground, then you can stomp.
A large or medium Red Wasp nest is another thing altogether! In a garden setting, a nest is going to most likely be in a perennial shrub, or a mess of passion flower vines or pole beans. Try to notice where the Red Wasps are going if you see a lot of them. Observe their behavior. If the nest is small, they won't pay you any mind, unless you directly threaten the nest. As their nest grows larger, they become more aggressive, and will attack unprovoked. If you are seeing lots of Red Wasps, or if they are challenging your Right to Garden, they almost certainly have a nest that is getting too big . Unlike Bees, Wasps can sting multiple times, which makes a bad reaction more likely.
Please notify your Zone Coordinator immediately if you think there is a Red Wasp nest in Sunshine Gardens. Don't attempt to fight a nest on your own. As Organic Gardeners, our goal is not to eradicate any native insects, but to control populations to safe and reasonable levels.
---
Rabbits
Several rabbits have been spotted around the gardens. Rabbits reproduce very rapidly, like... well rabbits, and can quickly overrun the garden eating a lot of vegetables. A female can reproduce up to five or six times a year and produce up to 7 babies at a time. That's a lot of rabbits. There's no such thing as a safe sustainable number of rabbits. If you see any, or see any damage done by them contact Stuart Nichols at elmer@math.austin.tx.us.
---
Micah 6 Summer Potluck
24 August, Sunshine Garden Trailer from 4-6 pm.
All Sunshine Gardeners are invited!
We ask that you bring a dish to share-be it salad, appetizer, entree or dessert, Drinks will be provided.
Let"s share our success together-the Micah team has grown and delivered a ton of food (2,000 lbs.) so far this year!!
Please let us know if you will attend -
RSVP to Susan Hoberman susie124@sbcglobal.net
---
Events of Interest to Gardeners
Low-Water Veg Gardening
23rd August 9:00 am, Natural Gardener, free.
Tim Miller, a former SCG gardener turned farmer, will be the featured speaker at a FREE class on . Many gardeners make an exception to water conservation when it comes to their vegetable garden. After all, we"re growing food here! In 25 years of being a certified organic farmer, Tim Miller of Millberg Farm has never pumped any water from the aquifer for his growing needs. He is uniquely qualified to teach us how to grow luscious veggies, while making the most of the water we have. Learn how to use trench composting, furrows and dikes, mulching, cover cropping, and even weeds to conserve our most precious resource - water.
Note: you also receive a coupon, good for 20% off one item for attending a Natural Gardener class.
---
Rebates for Compost, Mulch and Aerating:
Great news! The City of Austin is offering rebates for things we should all be doing in our yards - mulching plants & trees, and aerating & topdressing our lawns. If you do all three things (according to their rules, of course) you can get as much as $180 back! Buy what you need, and be sure to keep your receipts. For rules and more details, visit the City of Austin's website.
---
Links
A site with a multitude of links of interest to gardeners in Central Texas: http://gardeninglaunchpad.com/Aus.html
---
Vegetables to plant in August
Early to Mid month: Chinese Long Beans, Corn, Eggplant, Peppers, Southern Pea, Tomatoes, Winter Squash.
All month: Cucumber, Summer Squash.
---
Officer and Zone Coordinator Contacts - Sunshine Garden
Officers
Zone Coordinators
Other Coordinators