Sunshine Weekly Weeder Newsletter
3 September 2014
www.sunshinecommunitygardens.org
Important Notes
Sharon Rempert, our webmaster, notes that the website maybe unavailable for about 48 hrs due to switching to a new host.
Thanks to Robert Jarry who constructed the TSBVI sign and to Maria Beach who designed and painted it.
Wanted mentors for new gardeners
If you're interested in mentoring new gardeners (or anyone for that matter) please indicate your willingness by emailing Kay McMurray at scg.plots@gmail.com
35th Annual Conference of the American Community Garden Association was attended by Janet Adams, Kay McMurray and Randy Thompson They would love to share their experience with you so stop them when you see them at Sunshine.
---
TSBVI Fall Plant Sale
Mark your calendars for Wednesday, October 15th
We will be selling cool weather vegetables and flowers including: broccoli, kale, cauliflower, cabbage, Brussels sprouts, pansies, and violas. Also, as we sold out of kale extremely fast last year we will have two varieties this year.
More information to come.
---
Opportunities for TSBVI Volunteer Hours
Monday September 15th, 3,000 seedlings will be delivered!
They will need to be transplanted immediately.
This week some students may be able to start mixing soil and filling pots. If they are not able to get all of the pots filled we could use some volunteers to help get us get ready for the seedlings. This would likely be the afternoons of Wed 9/10, Thur 9/11, and/or Fri 9/12.
Potting seedlings
When the plants are delivered as many hands as possible will be needed to transplant all those plants. I greatly appreciate your ability to be on call for when the seedlings are delivered.
---
More TSBVI News
Additionally, in the next few weeks TSBVI is going to be getting a storage unit. We could use some extra hands to move items from the Horticulture and Animal Care classrooms and the greenhouse into storage. When the storage unit is delivered a moving time will be announced.
Do you want to spread your knowledge to TSBVI students? If you would be interested in talking to a class about the chickens, bees, or maybe something else get in contact with Nicole, at fishern@tsbvi.edu.
---
T-Shirt design contest for Sunshine Community Garden
Feeling creative???
T-shirt design guidelines:
Designs need to be submitted by October 31, 2014 at midnight.
Please submit via email or in person to any Board member.
Designs will be voted on for the following five days, online, until November 5 at midnight.
If possible we will also have them available to view at the garden for your consideration.
Any questions? Contact a Board member. Contact information on the website and also in each Weeder.
T-shirts, ideally, will be ready for purchase on December 6 for our Holiday meeting/potluck/party.
---
Events of Interest to Gardeners
The Iris Society annual Rhizome sale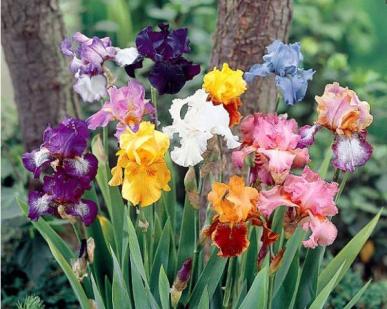 Saturday, 6 September, 9:00 am - 3:00pm.
Norris Conference Center, 2525 West Anderson Lane in the Northcross Shopping Center on the corner of Anderson Lane and Burnet Rd.
The entrance and parking is on the southwest side of the shopping center towards Wal-Mart.
Be sure to come early for the best selection. Cash, checks and credit cards are all accepted.
Tall bearded, border bearded and Louisiana irises will be available. Tall bearded irises are drought tolerant and thrive in the heat of Central Texas. They don't require a lot of water and they love the sun. A wide variety of colors including white, purple, yellow, blue, orange, red, pink and colors in between will be available. There will also be several reblooming tall bearded irises available for sale. Reblooming irises bloom in the summer and fall as well as the spring. We look forward to seeing you there.
---
Rebates for Compost, Mulch and Aerating:
Great news! The City of Austin is offering rebates for things we should all be doing in our yards - mulching plants & trees, and aerating & topdressing our lawns. If you do all three things (according to their rules, of course) you can get as much as $180 back! Buy what you need, and be sure to keep your receipts. For rules and more details, visit the City of Austin's website.
---
Links
A site with a multitude of links of interest to gardeners in Central Texas: http://gardeninglaunchpad.com/Aus.html
---
Vegetables to plant in August
Early to Mid month: Chinese Long Beans, Corn, Eggplant, Peppers, Southern Pea, Tomatoes, Winter Squash.
All month: Cucumber, Summer Squash.
---
Officer and Zone Coordinator Contacts - Sunshine Garden
Officers
Zone Coordinators
Other Coordinators