Sunshine Weekly Weeder Newsletter
9 September 2015
www.sunshinecommunitygardens.org
Hi everyone,
We're having an all-gardeners meeting this Saturday, Sept. 12, at 10 am.
TSBVI Workday
We are also having a TSBVI workday to maintain and restore the granite paths in the TSBVI Garden from 8:00 - 12:00 noon. This will be a chance to complete your TSBVI hour for the fall season and help have the TSBVI Garden in good shape for the TSBVI students for this fall. A good turnout will help us get the work completed by noon. The workday will occur around the All-Gardener meeting which begins at 10:00 am.
---
Exercise in the Garden
The following is taken from Stacy Best's website: stacybest.com
The site is very informative about health and gardening in particular how to avoid injury to joints and muscles.
The following show how many calories the various gardening tasks use. (Whew! I don't have to join a gym to exercise)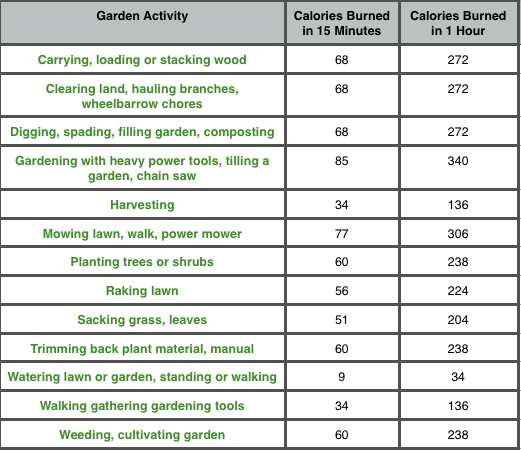 There is additional information about how to use gardening tools correctly so as not to injure yourself.
---
Compost News
Would gardeners refrain from putting Khaki weed in the compost pile? Please put it in the dumpster. If you are unsure what Khaki weed looks like google images has a number of photos of it. It is easily identified.
The trash buckets around the pile are for gardeners to throw away the inevitable bits of non-compostable material that find their way into the pile. Please leave the buckets where they are, do not take them away.
---
September Gardening Hints
The Following was taken from the Compost Bin a publication put out by Travis County Master Gardeners Association; http://www.tcmastergardeners.org/the-compost-bin-newsletter
Thanks to Patty Leander for permission to use it.
It's been a dry summer but the meteorologists keep talking about the potential for a record-setting Godzilla El Niño, so planting in raised beds or slightly elevated rows might be a good idea for the fall vegetable garden. As we know all too well it's easier to add water than to remove it. Even though our days are still hot, we should feel a slight drop in the nighttime temperatures by the end of the month. Our plants will feel it too, and they will respond with noticeable vigor. Encourage this early growth with regular fertilization and watering; plants that wilt or dry out, especially cauliflower, broccoli and Brussels sprouts, may not develop properly.
---
What to Plant in September
Early - Mid Month: Beans, Summer Squash.
---
Officer and Zone Coordinator Contacts - Sunshine Garden
Officers
Zone Coordinators
Other Coordinators