Sunshine Weekly Weeder Newsletter
26 November 2014
www.sunshinecommunitygardens.org
Holiday Potluck Gathering
Saturday, 6 December, 5:00 pm
Mark your calendar and plan to join your fellow gardeners to kick off the Holiday Season. Please bring a dish to share. No speeches, great food, scintillating conversation, music TBD, door prizes, and opportunity to buy the newly designed Sunshine T-shirt.
---
T-shirt design competition
The winning design was Sunshine Community Garden written in English and braille. Congratulations to David Dasso and thanks to Charles Hess, Laine Hardy, Berk Bettis, and Gail Reese for submitting their designs.
---
Rabbit Update
If you spot any animals of any kind in the traps, please send a text message to the telephone number on the trap, or email Stewart at elmer@math.austin.tx.us.
Also, please report any NEW rabbit sightings to the above address, giving the date/time seen, and where seen, including plot number if known.
---
Work Hours due Dec. 31st
Important Reminder: The Virtual Green Binder makes it easy for each gardener to check hours worked and amount owed. Simply scroll to the bottom of the screen to see the totals. For example, this gardener knows she must complete one hour of TSBVI service by December 31 or pay $50.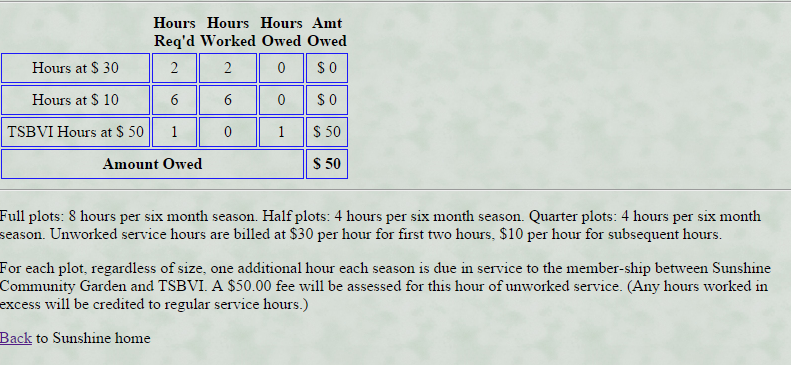 ---
Things to plant in the garden in November
All month: Kale, Lettuce, Radish, Spinach.
---
Officer and Zone Coordinator Contacts - Sunshine Garden
Officers
Zone Coordinators
Other Coordinators